Bela MD Microdermabrasion
Bela MD Microdermabrasion
Bela MD Microdermabrasion is a specialized treatment that combines serum infusion and diamond microdermabrasion to take your microdermabrasion facial to the next level.
Bela MD Silver $150 (Ultimate Deep Cleansing)
Bela MD Gold $195 (Deep Cleansing + Brightening)
Bela MD Platinium $250 (Ultimate Anti-Aging for Brightening + Lifting)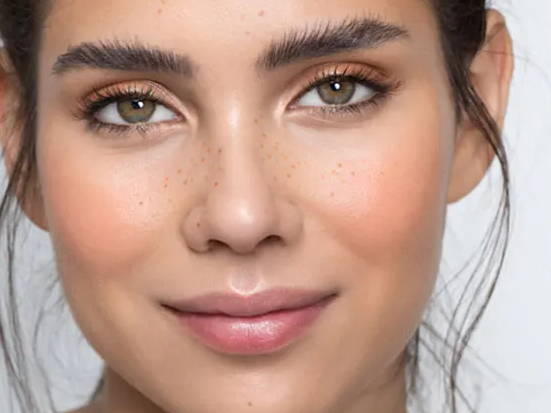 Bela MD Microdermabrasion Mississauga
What is a Bela MD Microdermabrasion?
---
Bela MD Microdermabrasion is a specialized treatment that combines serum infusion and diamond microdermabrasion to take your microdermabrasion facial to the next level. This treatment uses 4 distinct serums to achieve personalized results and to target specific skin concerns. It uses antioxidant hydrogen water infusion, electroporation for enhanced serum delivery, and muscle stimulation to tone and boost circulation. Enjoy glowing results with no downtime.
---
Brightens complexion
Infuses the skin with powerful antioxidants
Soothes the skin & reduces signs of skin fatigue
Maintains texture
---
Strengthens skin's protective barrier
Restores & retains skin hydration
Complements skin tightening treatments
Creates younger, healthier-looking skin
---
Evens skin tone
Brightens skin complexion
Complements laser resurfacing treatments
Improves the signs of aging
---
Ideal for acne-prone and/or congested skin
Reduces excess oil
Restores balanced hydration
Soothes & calms the skin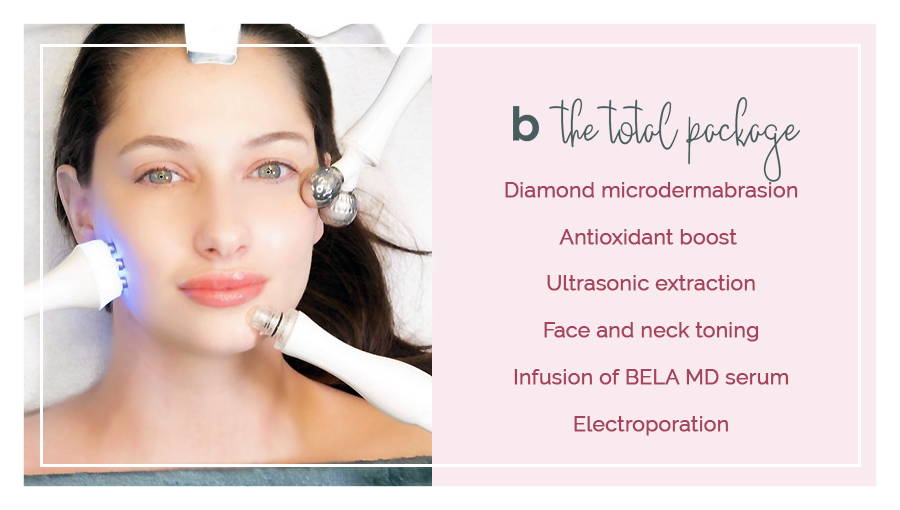 Microdermabrasion with Aqua handpiece and diamond tip
---
The Aqua handpiece fitted with one of 3 diamond tips is used to perform a medical grade exfoliation. Removing the outermost layers of the epidermis accelerates skin cell turnover and reduces the appearance of fine lines and wrinkles. The complexion is smoother and brighter. It also allows for better penetration of ingredients to follow.
Hydrogen therapy with the H2 module
---
Hydrogen therapy works by combining hydrogen (H+) with free radicals (OH-) to produce water (H2O). The BELA MD H2 module transforms tap water into hydrogen rich water which is infused into the skin using the Aqua handpiece to reduce oxidative stress and inflammation while boosting brightness and hydration.
Infusion with Aqua handpiece and Aqua tip
---
The Aqua handpiece is a closed looped system. BELA MD bio-infusion serum or hydrogen water is emitted from the central aperture of the Aqua tip and infused into the skin along the contact path. Remaining solution dissolves any impurities, then exits through the waste inlet port. The BELA MD+ touchscreen interface allows for easy and precise adjustments of vacuum & flow levels.
Facial and neck toning with the double lifting Y handpiece
---
The BELA MD Y Handpiece uses 360-degree rotating massage balls and Micro-current Electrical Neuromuscular Stimulation (MENS) technology to provide muscle stimulation, skin tightening and a lifting effect. Its design enables a relaxing massage while repeated muscle contraction and relaxation boost circulation and toning.
Cleansing and extraction with the Ultrasonic Skin Scrubber
---
The Ultrasonic Skin Scrubber is a metal spatula that oscillates with ultrasonic vibrations creating a "pressure washing" effect. The ultrasonic waves help loosen and remove oil, dirt, and cellular debris from pores. It can also be used for sonophoresis during which ultrasounds drive active ingredients into the skin by disrupting its lipid layer.
Latest generation bio-infusion serums
---
Each BELA MD bio-infusion serum is designed to target common skin concerns, while providing an overall improvement in skin quality with multi-functional ingredient blends. Advanced encapsulation technology protects serum ingredients and stability, while enhancing penetration to boost results.
FREQUENTLY ASKED QUESTIONS
How does Bela MD Microdermabrasion work?
Bela MD Microdermabrasion works through several different areas of technology and specially-designed serums to deliver glowing results:
Uses a diamond-tip handpiece – Dry medical-grade microdermabrasion with a diamond tip is delivered to deeply cleanse, exfoliate and infuse serums and hydrogen water (H2) for a boost of radiance.
Hydrogen Therapy – Inflammation of the skin is reduced and hydration is enhanced through electrolysis of mineral water, which is then infused directly into the skin.
Enhanced serum absorption – A tiny electrical field is applied to the skin to increase penetration of active ingredients directly into the skin.
Deep muscle & circulation stimulation – A combination of massage and electrical pulses are delivered to provide deep muscle stimulation, enhancing skin elasticity, promoting drainage and boosting healthy blood flow.
Personalized serums – Specific serums are selected based on your individual skin concerns to provide you with optimal results.
Where do I get Bela MD Microdermabrasion in mISSISSAUGA?
Bela MD Microdermabrasion is a safe, non-invasive procedure that should only be delivered by a professional. As the leading laser clinic in Mississauga, Body Clinic is proud to offer professional Bela MD Microdermabrasion treatments to our clients.
Bela MD Microdermabrasion provides long-lasting improvements for the following facial skin concerns:
Reduces congestion & cleanses pores
Brightens complexion
Improves skin tone
Reduces signs of skin fatigue
Soothes skin
Reduces excess oil
Restores optimal hydration
Most clients notice results immediately after treatment. The required number of treatments for optimal results may vary depending on your unique skin concerns and treatment area. For optimal results, we typically recommend a series of 3-6 treatments. A skin expert will determine the right treatment plan for you during your complimentary consultation.
Does Bela MD Microdermabrasion work on all skin types?
Yes! Bela MD Microdermabrasion is safe and effective for all skin types. However, we recommend a consultation with one of our skin experts before proceeding with any treatment.
How much does Bela MD Microdermabrasion cost?
Bela MD Microdermabrasion costs $150 to $250 per session.
3-6 treatments needed for optimal results. This is a great maintenance treatment and complements more advanced laser treatments.
You will have longer-lasting results by using a physical block sunscreen, avoiding sun exposure and committing to a medical-grade skincare routine.
*Each client is unique and these are general treatment guidelines.